Dolfin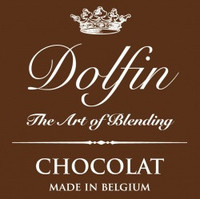 The master chocolate makers of Dolfin cultivate the intense and aromatic taste of real Belgian chocolate. Powerful, full-flavoured and sometimes extreme in the case of the dark chocolates, soft and tender in the case of the milk chocolates.
Keen on travelling, Dolfin's master chocolate makers are interested in the flavours of the world, those who, when unrefined, can still be found naturally authentic and pure. Fruits, spices, herbs and flowers are mingled with precious chocolate in sometimes surprising but always harmonious combinations. Innovation lies at the heart of the spirit of Dolfin; that is why some of Dolfin's recipes are genuine novelties for gourmands.
Because sensory pleasures are multiple, Dolfin takes particular care over the presentation of its packaging, which ensures the natural preservation both of the flavours and properties of the chocolate and of the environment.